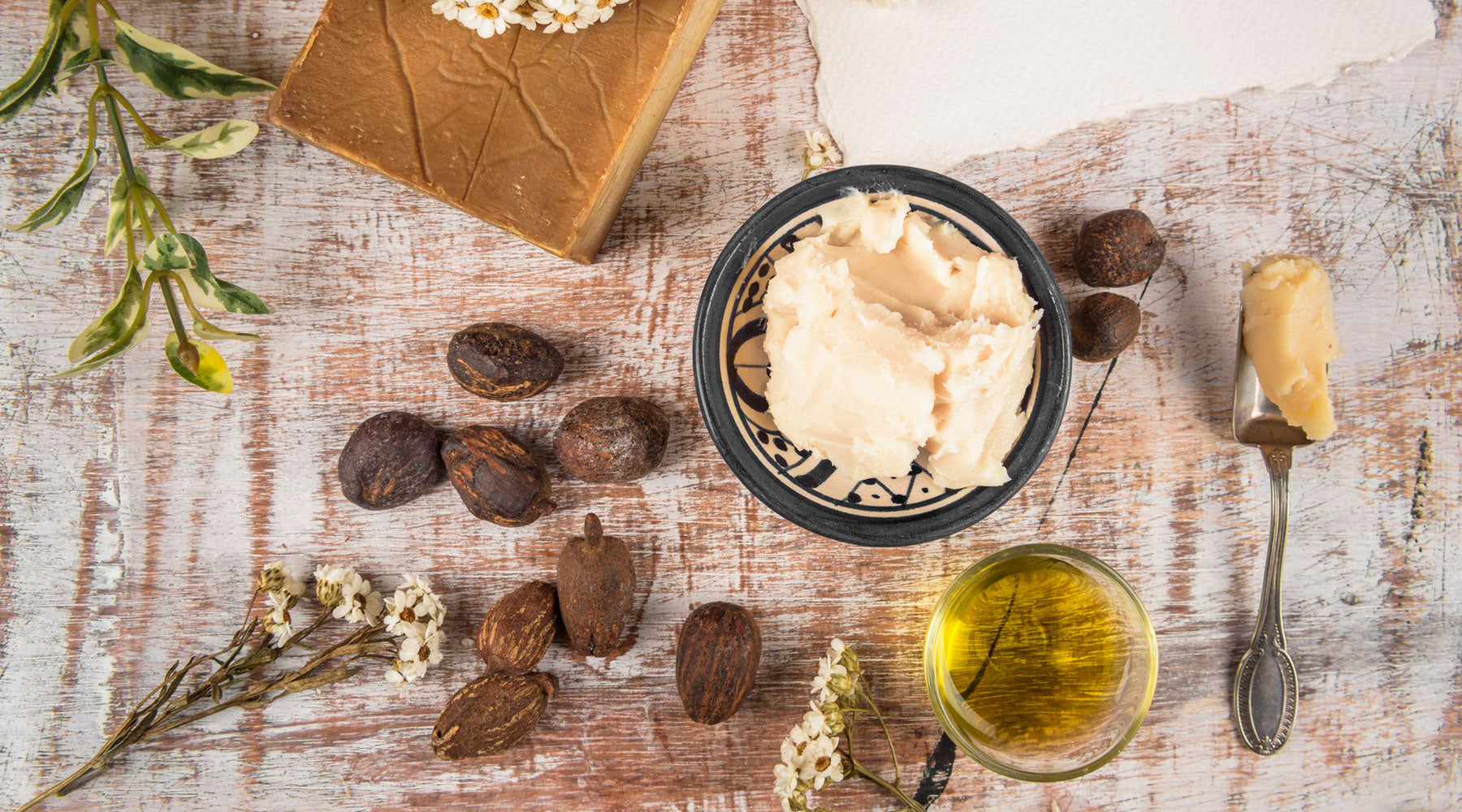 Benefits of shea butter for skin
There are many benefits and advantages of using shea butter for the skin . This ingredient is one of the great allies for making our skin look well hydrated, luminous and with fewer wrinkles.
What is Shea butter?
Shea butter comes from a tree that grows in the African savannas and is called Shea (Butyrospermum Parkii). This tree can measure up to 15 meters in height, have a diameter of 1 meter and live up to 300 years.
From its fruits, almonds are obtained that, after boiling and grinding, become a vegetable fat: shea butter. The composition of this butter is mainly oleic acid (60 - 70%) and the rest are palmitic acid (2 - 6%), stearic acid (15 - 25%), linolenic acid (5 - 15%), linoleic acid (< 1%).
It also contains vitamin E, which is a powerful cell regenerator that prevents aging.
What are the benefits of Shea butter for the skin?
Shea butter has a high content of unsaponifiable fatty acids , even higher than cocoa butter. This makes it an excellent ally for the skin as it helps soften the epidermis and maintain skin elasticity .
Due to its consistency and substantivity (ability to remain on the skin after getting wet), it provides protection against climatic factors such as sun and wind . Its cinnamic acid content helps protect the skin against ultraviolet radiation . For this reason, it is recommended to incorporate it into facial creams, makeup bases, lipsticks and daily use cosmetics.
Shea butter can be used as a protector against sunburn (inflammation caused by the sun characterized by red spots on the skin). Also to prevent the effects of skin aging since it stimulates cellular metabolism and prevents the formation of wrinkles.
It also has a healing action , which makes it a suitable treatment for dry and cracked skin or eczema .
Finally, it should also be noted that it can be used to hydrate dry hair, applying a small amount to the ends of the hair.
How do you know if a cosmetic contains shea butter?
Shea butter is listed as "butyrospermum parkii butter" or "shea butter" in the ingredients list. If you find that ingredient on the label it means that your cream has shea butter. In most cosmetics, between 1 and 10% of the total mixture is used, although it can be used in its entirety. We cannot know the exact percentage unless the manufacturer wants to say so.
A clue: when a cosmetic is labeled, all the ingredients that make it up are listed in order from highest to lowest. Therefore, if the compound is at the top of the list it means that that cosmetic has more shea butter than others.
To explain it well, we are going to analyze three product labels that you can find on our website and that contain shea butter.
Shea butter with Tiaré flower
Ingredients: Butyrospermum parkii butter (shea butter), Parfum (fragance), Tocopheryl acetate
The composition of this product is telling us that practically 100% of the cosmetic is shea butter. The rest is perfume, which is usually 1% and also contains vitamin E.
Therefore, this product is only shea butter . Perfect to apply on the driest areas of the skin (elbows, heels, etc.) and also on the lips. Remember that as it contains cinnamic acid it also has an ultraviolet protection effect.
You can also find it with the same composition in a can format, much more convenient to always carry with you.
Olivia Moisturizing Cream
Ingredients: Aqua (Water), Butyrospermum parkii (shea) butter, Caprylic/capric triglyceride, Olea europaea oil, Squalane, Cterearyl alcohol, Olus oil, Cetearyl glucoside, Hydrogenated olive oil caprylyl esters, Talc, Limonene, Citrus nobilis peel oil, Hydrogenated vegetable oil, Sodium borate, Citrus medica limonum oil, Sodium benzoate, Tocopherol, Candelilla cera, Potassium sorbate, Lavandula angustifolia herb oil, Pelargonium graveolens oil, Linalool, Citronellol, Geraniol.
This moisturizing cream contains water as its main element, which is totally normal for a cream. But note that the second ingredient is shea butter, even ahead of olive oil. You can see the shea in this product, it is a creamy but not greasy cream and I personally recommend it, because it has been my go-to moisturizer for years.
K. Hall Hand Creams
Water (Aqua), Butyrospermum Parkii (Shea Butter), Glycerin, Glycol Stearate, Stearic Acid, Cyclomethicone, Cetearyl Alcohol (and) Ceteareth-20, Dimethicone, Cetyl Alcohol, Aloe Barbadensis Leaf Juice, Caprylic /Capric Triglyceride, Fragrance (Parfum) , Polyquaternium-7, Vitis Vinifera (Grape) Seed Oil, Triethanolamine, Gluconolactone (and) Sodium Benzoate, Benzyl Benzoate, Benzyl Salicylate, Citronellol, Hydroxycitronellal, Lilial, d-limonene, Linalool.
I, who personally take very little care of my hands, have found a great ally in these creams because, as you can see, shea butter is the second component, behind the water that we have already seen, it is normal. They also contain aloe vera, which makes them a perfect friend to always carry in your bag or have on your nightstand.
As you have seen, there are many advantages of using shea butter for the skin . As almost always, less is more, and a simple composition based on shea butter can be perfect for your dry skin problems.
Recommendations: when you go to buy your cosmetic with shea make sure that it comes from organic farming and if possible from fair trade. This guarantees that it does not contain pesticides and that a living wage has been paid for the production of this product.